Archive for March, 2005
March 26th, 2005
Stars
at Bimbos 365 on Saturday, March 26th, 2005.
Other photos
BUSTED… So was a bit careless and the camera was using almost confuscated. I did get a nice 2 minute clip before I heard STOP FILMING.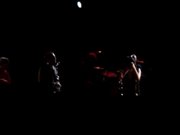 beersy | 8:01 pm | Show at Bimbo's 365 Club | No Comments
March 23rd, 2005
Bloc Party
at Bottom of the Hill on Wednesday March 23rd, 2005.
The week of shitty photos… My Cybershot is busted so I had to take this with my camera phone.
Other photos…