Archive for the 'Show at SBC Park' Category
September 24th, 2005
Green Day
Photo_092405_008

Originally uploaded by maju6406.
at SBC Park on Saturday, September 24th 2005.
After years of bad mouthing stadium shows withougt ever having gone to one, I went to see Green Day at SBC Park… and it was fantastic. Billie Joe is amazing front man, and they did a great job entertaining the entire crowd. It didn't hurt to have know someone who toured with green Day who got me backstage passes. Didn't have the camera this time- just the camera phone.



Here's a great pic that another flickr patron took at the show: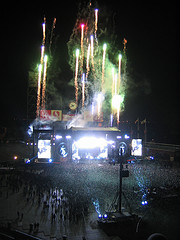 ">
Fireworks!
Thanks jvcheng!